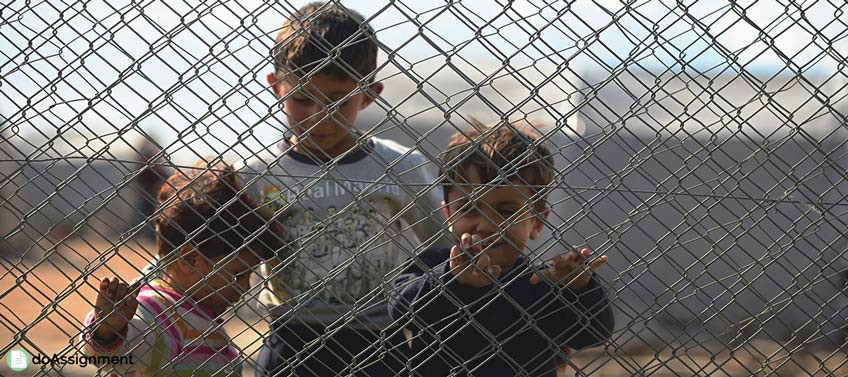 People in underdeveloped regions often decide to move into wealthy and perspective ones. However, immigration laws in such countries usually impede entrance as it is necessary to compile a pack of documents, have enough money and get a visa, which as a rule is complicated for citizens of poor regions. Anyway if such person even permeates through the border his or her status is still illegal, it means the absence of rights and freedoms, medical and social packets. Students have to be aware of this problem, so here are some strong arguments against illegal immigration.
Hits the Economy
Illegal immigrants, as they don`t pay taxes and dues to the country`s budget, affect the economy badly. They can be used as a cheap work force, with no medical insurance and low salaries. Moreover, usually, they are not able to provide high-quality educational or medicinal services, which can be useful for the state. The reason is that very few of illegals have higher or special education. Likewise, illegal immigrants use public schools, polyclinics and government is compelled to allocate more resources on policing and various municipal services. What`s more, the government has to spend a great deal of money to deport them.
Citizens` Discontent
As illegal immigrants don`t pay taxes and use municipal accommodation, it means that citizens of the certain county have to disburse for them. Naturally, such situation will displease hones people. They usually find wetbacks dangerous for society and it is not baseless. Sometimes illegal immigrants cause conflicts with locals, rob stores or create a disturbance. People in most wealth countries don`t like the way how incomers occupy their workplaces and territory in cities, sometimes they beset the whole districts. Such areas become insanitary and provide various illness and infections. As a result, the rate of unemployment increases and salaries, in general, become lower. On this basis many protests occur.
Increase Crime Rate
It is true that almost all illegal immigrants are poor and come to the country in order to find of a better life. Nonetheless, with the multitude of incomers criminality comes into certain region. Scores of criminal groups appear and start harassing locals. Moreover, police have more work and cannot concentrate on more significant issues. It is vital to mention that sometimes lawbreaker runs from the judgement to the other country with false documents and continue to offend on its territory. Furthermore, such crimes can be forearmed and murder or injure innocent people.

Plundering of Resources
Illegal immigrants don`t respect the place they came to, while using its wealth, resources and other benefits. Their children go to local schools, which become overcrowded, and use all advantages of living in a certain country for free. Incomers do not worry about future of the country; they avoid taxing and try to get what is best for themselves.
All in all, illegal immigration nowadays becomes a big problem, and its solution needs a lot of money. Changes which will help to protect the country from incomers should be taken, and those who are already live there above the law must be deported. It is vital to note that these arguments do not touch people who immigrate legally, as they in most cases are educated and are able to make the region stronger and richer.